Meet Our Leaders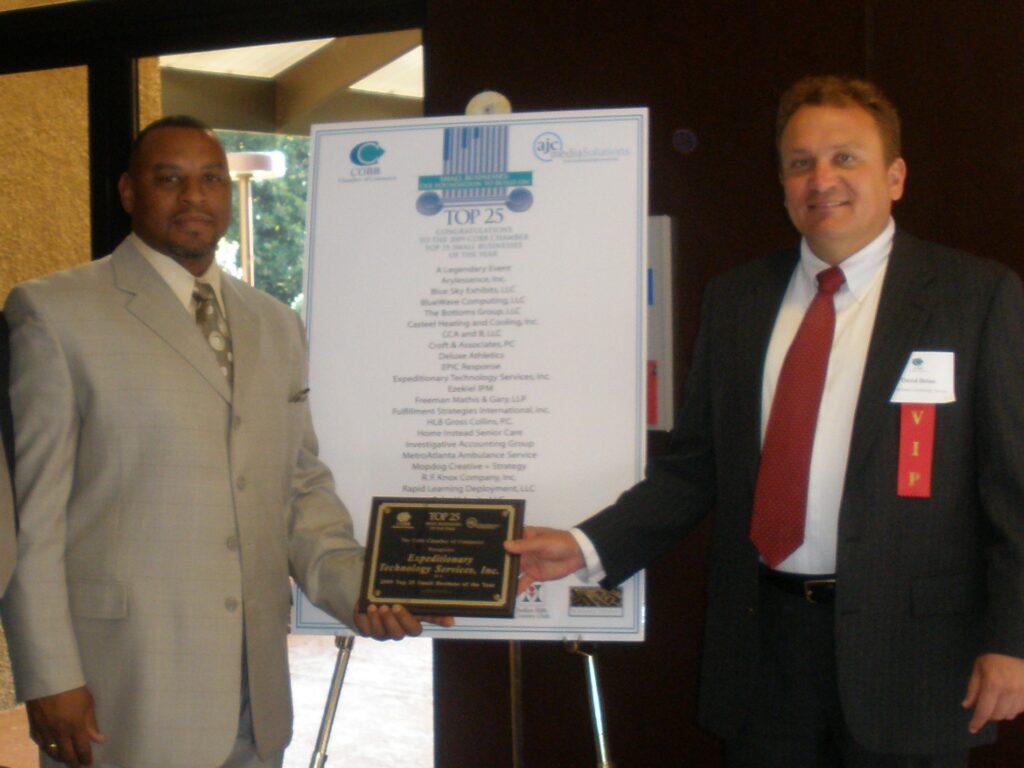 David Jacob Heino – President
Mr. Heino has over 30 years of management and technical expertise in the field of information technology, logistics, and systems engineering. He has held senior management and technical positions with industry leading management and technology consulting firms, a major aerospace corporation and the U.S. Army prior to founding Expeditionary Technology in 1998.
As President of Expeditionary Technology Services Inc. he is responsible for the strategic direction of the business and overseas day to day operations and the overall leadership of the operations and business development efforts of the firm. Working as part of a cohesive management team with Melvin Evans, Vice President, they implemented a DCAA approved accounting system ISO9001-2015 certification, and continuously maintains a world class management systems.
Mr. Heino earned his masters degree in Interdisciplinary Studies with a focus of Management Information Systems from George Mason University. He is a disabled veteran with 23 years of service, including 17 years as a commissioned officer. Mr. Heino is a combat veteran and disabled veteran who served in Afghanistan as a mobilized Army Special Forces ODA Commander.
Melvin J. Evans – Senior Vice President
Mr. Evans has over 25 years of management and technical experience in the field of information technology, logistics, and systems engineering. He has held executive and senior management positions with a major national media outlet, and with major systems integrators, high tech consulting firms, and electronic systems and computing manufacturers prior to joining Expeditionary Technology in 2006. Mr. Evans, an Army veteran who served during Desert Storm, was also the lead engineer for the U.S. Army Forces Command's Command and Control Network. In addition, Mr. Evans is an expert at modeling and simulations and live Army experiments and exercises.
As Vice President of Expeditionary Technology, he is responsible for the technical direction of the business and overseas technical project performance. While under Mr. Evan's technical leadership endeavors, Expeditionary Technology was selected as one of the top 25 small businesses in Atlanta's Cobb County Business community.
Mr. Evans is an Alabama State University graduate in Computer Science and has multiple high level technical certifications.
Roberto Henningham – Chairman of the Board
Mr. Henningham has over 30 years of management and technical experience in the field of logistics management, maritime and aerospace operations, civil engineering, and civil affairs. He is a 24 year veteran of the Navy SeaBees. He also served as a civilian official in the U.S. State Department as the Maritime Operations Officer for the U.S. Government Embassy in Panama. As a retired veteran with a 24-year career in the U.S. Navy he completed extensive formal training and fulfilled multiple managerial assignments with demonstrated success throughout his global deployments. Throughout his Naval career he became well known for his ability to handle diverse and multiple levels of responsibility ranging from the orchestration of large scale logistics and operations management, to the training and mentoring of technical and administrative personnel.
Mr. Henningham p
lanned, coordinated, synchronized, and executed the USSOUTHCOM Theater Security Cooperation strategy and the Department of State Mission Strategic Plan. He was responsible for planning, coordinating, and executing all U.S. Security Cooperation initiatives in Panama in support of U.S. Southern Command Theater Security Cooperation Plan, to include U.S. Navy and U.S. Coast Guard ship visits and canal transits, tracking, movement, and force protection of U.S. personnel during combined force exercises, information/technical exchanges, and official distinguished visitor visits.
Serving in Bahrain, Mr. Henningham was the Facilities Maintenance Department Operations Manager. He provided supervision, direction, guidance, and oversight for a diverse work force of military, civilians, and foreign nationals assigned to the department. He coordinated directly with facility managers, government representatives and local contractors for mission accomplishment. Prepared budgets, performed cost benefit analysis, and managed large budgets. He was responsible for managing and tracking work requests for seventy-six tenant commands and over three hundred seventy facilities. Evaluated work performance of direct labor personnel, reviewed and assured contract compliance of awarded contracts, prioritized and assigned routine and emergency service work for shop supervisors.
Mr. Henningham joined Expeditionary Technology in 2015 and leads our firms programs overseas in the field of logistics management and logistical systems. Mr. Henningham is a graduate of Ashford University with a bachelors degree in Organizational Management.